Crate Motor
Accessories
Our performance engines include basic black or chrome tinware (valve covers & air cleaner), but many of our customers opt to upgrade these components to compliment the look of their build. We are happy to offer competitive pricing on many brands of tinware and other dress-up parts.
Contact us for a quote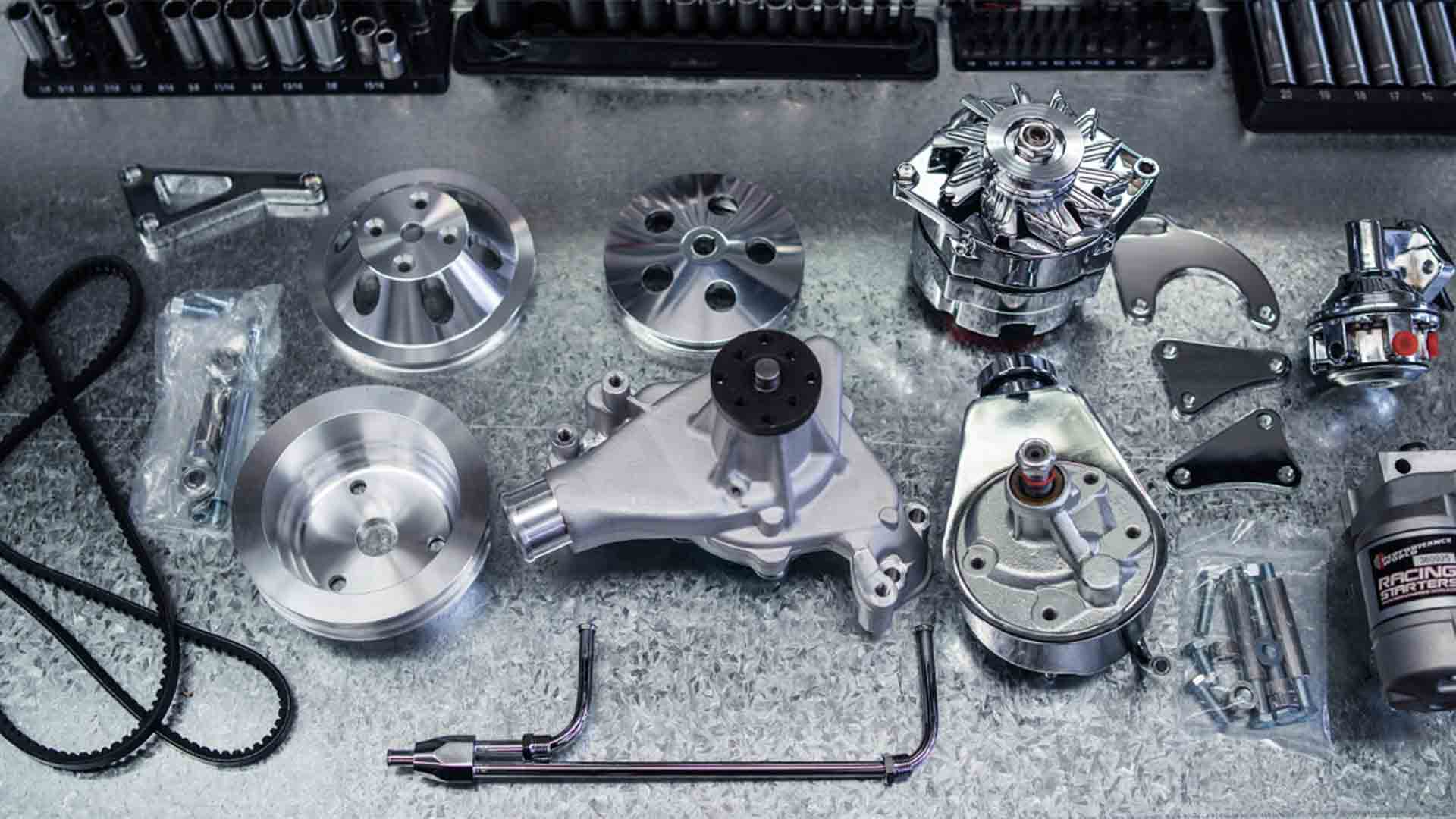 Your Engine, Your Way
Turn Key

Crate Engine Accessory Packages

Your engine will arrive as complete as possible; however you may still need to purchase additional external components in order to get your new engine up and running. If you are reusing accessories from your previously installed engine, please let us know when you order your new crate engine so that we can let you know if there may be any compatibility issues.

Canadian Crate Engines offers accessory and dress up kits to fit every budget. Whether you just want to get rolling, or you want to style out your engine bay with high gloss chrome or billet aluminum parts, we have you covered.

When we supply your accessory parts, you can be confident in knowing you will be getting the right parts for your needs the first time.
Canadian Crate Engines Completion Kit

V-Belt or Serpentine Drive Pulleys
Belt Set
100 Amp High Output Alternator
High Flow Aluminum Water Pump
Saginaw Style Power Steering Pump
High Volume Fuel Pump
Fuel Pump Pushrod & Plate
High Torque Mini Starter
PCV Valve
Carburetor Fuel Feed Line
Billet Dipstick
Valve Cover Breather
Accessory Brackets & Hardware
Vacuum Lines

Our Completion Kit (shown above) starts at $1,695 including installation. This means that your engine is ready to run out of the crate! We offer all our kits in Black or Chrome/Silver to suit the look of your build.

Valve Covers & Air Cleaners

All of our Crate Engine packages come included with black or chrome basic Tinware (Air Cleaner & Valve Covers). Looking for something that is going to make your engine bay stand out? We are happy to offer a wide selection of Tinware for you to choose from. Click below to browse our options.

Fuel Injection

Canadian Crate Engines is Canada's West Coast distributor of FiTech EFI systems. These fuel injection kits are designed to replace a conventional carb setup on your classic ride, putting an end to any cold start and tuning issues you may have. The FiTech systems are great for drivers who want turn key performance without compromising the look of their engine bay. Our FiTech kits start at just $995!

Transmissions

Are you also looking for a transmission to be mated to your new engine? We have great pricing on OE replacement or performance transmissions for your next build, and are happy to recommend what would be the best fit for you.

We offer Tremec TKO and TKX 5 and 6 speed manual transmissions for Ford and GM applications. For automatic transmissions, we can supply TH350 and 700R4 for Chevrolet/GM, and C4, C6, and AOD transmissions for Ford. Transmissions are supplied to match horsepower and torque of corresponding engine packages.

You may also be keeping your existing transmission, but a more powerful engine may require a higher performance clutch or torque converter. Don't hesitate to contact us with any questions!

Serpentine/V-Belt Pulley Kits

Planning on making big power? You might want to consider upgrading your drive pulleys to a serpentine kit. We are proud to offer standalone serpentine and v-belt kits from CVF racing. These high quality set-ups will ensure that your accessories keep spinning under heavy acceleration and high RPM. Plus, they look awesome. Kits start at $699.

Custom Block Colours

All CCE performance engines are painted in-house with high temperature engine enamels by Dupli-Color. We are happy to offer complimentary block colour customization with all of our engines. From Chevy orange, Ford blue, or just classic black; we want you to customize your engine so it fits your personality. Here are some of our most popular choices.

If you are looking for a specific colour, drop us a line for full selection of engine enamels.

Spark Plug Wire Colours

Our engines come with your choice of spark plug wires to match your build. Go with a classic red or black, or change things up with something a bit brighter. We use Taylor Spiro 8mm Pro spark plug wires, which are low resistance, shielded to prevent RFI, and are heat resistant! If you require a specific boot angle to clear your headers or exhaust manifold, make sure to let us know and we'll find the right fit for you.

Headers

Get the full potential out of your new crate engine with a wicked set of headers! We have headers for all makes and models, starting at just $299.
Ready to customize your performance engine?
We'd love to help you.